The partnership with Tincup® Mountain Whiskey came about the same way a lot of get-togethers do: a mutual acquaintance said "you guys should know each other." Living in Colorado, we all know of Jess Graber's fine product, so we got together with the folks at Tincup and just started sharing ideas about what life in the mountains is like today.
The backpack – called the MTN Packboard 17L – was designed specifically for this project. And no joke – the initial sketches of the pack were drawn on the back of a bar tab after enjoying some whiskey with the Tincup gang.
We built the pack using "heritage" construction techniques like double-needle stitching for durability and additional bar-tack stitching for strength. We also made sure to bind every raw seam – including around the zippers – to make sure the product lasts from the inside as well as the outside. These are some of the construction techniques that represent USA-made backpacks and, to some extent, packs from a previous era.
Madden Equipment has been making backpacks for over 40 years for people who make their living outside – climbing instructors, smoke jumpers, ski patrollers – so we've received a lot of feedback from those "in the field" about how to make a pack that will last a long time.
The pack is sized for daily use, but the carry-system is designed to accommodate year-round mountain living. It's easy to carry water bottles and trekking poles for hiking, skis for running laps in the side country, or hammocks and refreshments for hanging out with friends in the forest.
We upgraded the shoulder harness to 1/2" EVA foam for supreme comfort and durability. There is also a thin plastic frame sheet in the back panel that helps support the pack when lashing heavier gear like skis.
The outside of the pack features a double layer of 1000d Cordura® on the bottom for extra durability, lots of tie-off points for attaching gear and two water bottle pockets. There is a removable insulated bottle cozy that is sized specifically for a bottle of Tincup that attaches to the outside of the pack.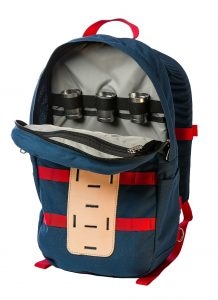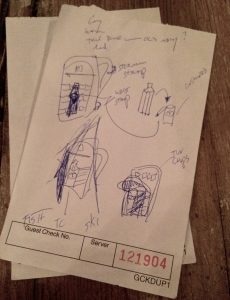 The inside of the pack is fully featured with pockets and a high-visibility nylon liner. There are also some special elastic slots for holding – what else? – your Tincup shot glasses!
Our favorite element of the pack is the leather front patch. It adds a timeless style to a new pack. And the leather ages beautifully. The leather patch on our prototype started to turn a light caramel color after a summer in the high country. By the end of next season, it should be a rich whiskey hue. And that's just what we wanted.